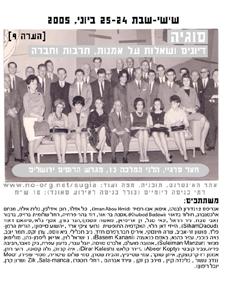 Sugia - On Art, Culture and Society [Heara 9]
Sergey's Courtyard, Heleni Hamalka 13, Jerusalem
June 24 2005
Sugia, is a platform for meeting and discussion of practical questions and actual problems regarding art, new media, politics and society.The event is also an attempt for mapping, meeting and sharing artistic practices between groups and individuals who are active locally.We intend to create a dialogical and open meeting and invite artists, collectives, researchers, cultural actives and all that are interested in taking part in the initiative to send proposals for panels, lectures, projects and workshops regarding the subjects defined below, and also to send works or texts to archives that will be created in accordance to these subjects and will be available for the public.
סוגיה הוא אירוע עצמאי המציע מפגש בין אמנים, פעילי תרבות, חוקרים והקהל הרחב. במהלך שני ימי האירוע יתקיימו דיונים, הרצאות והצגות של פרויקטים – כולם סביב יחסי הגומלין בין אמנות, תרבות, מדיה חדשה, פוליטיקה וחברה.
מטרות המפגש הן למפות פרקטיקות אמנותיות של קבוצות ופרטים הפועלים בארץ ולהפגיש ביניהן, על מנת לפתוח ערוצים לדיאלוג, שיתוף פעולה והרחבת הפעילות העצמאית.