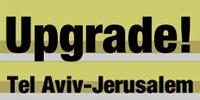 Director / Composer currently working in Tel Aviv & Amsterdam. Landau completed his second degree in music composition and new media at the Royal Conservatory, The Hague [1999].Using diverse media in his film and performance work, Landau explores the borders of cinematic language in the context of live performance. His...
Lietterschpich is a new project that experiments with audio-visual aggression. The outcome is something they refer to "digital doom dub". Super-collective formed by members of various
groups: Rani Zager and Oz Vult , Eran Zax, Dudik Oppenheim , Aviad Albert, Alma Ben-Yossef, Ron Katsir & Nevet.