About the History of the Anglican International School of Jerusalem (AISJ)
AISJ – website
September 14 2004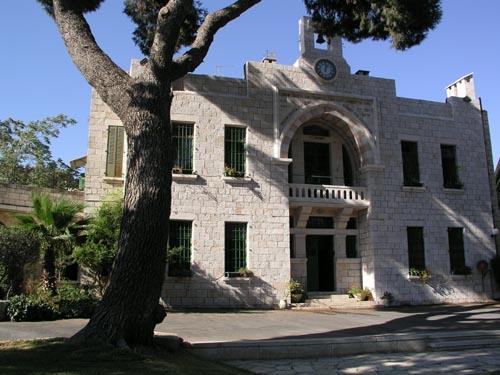 [he]

The property on which the Anglican International School of Jerusalem (AISJ) is located belongs to the oldest serving Protestant society in Israel - CMJ (known in Israel as ITAC - Israel Trust of the Anglican Church). Joseph Barclay, the head of CMJ in Israel purchased this property in 1863, at which time there were few buildings outside the walls of the Old City. It was known then as the Sanitorium. Only one building was located here then, known as the Sanitorium - the architect of which was one of Jerusalem greatest personalities of the modern period - Conrad Schick.
During the 1890's CMJ embarked upon several large building projects here, one being a boarding school for Jewish girls, in 1863. Again Schick was the architect of this massive building, afterwards affectionately known to Israelis as Bet HaDegel -House of the Flag.
The other building was the English Mission Hospital (now AISJ), completed in 1897. This was the vision of Dr Percy Wheeler. CMJ had previously built the first modern hospital, inside the Old City, in 1844. This Hospital was the most up-to-date Hospital in the City and region. It's opening however caused serious riots from opposing Jewish zealots. Nevertheless it survive that period, and over the following decades it offering assistance to many thousands of people (Jewish and not Jewish).
During the First World War it changed hands several times, until finally,
in December 1917, it was the headquarters of the 60th British Infantry Division. It seems very probable that General Allenby left from here en-route to Jaffa Gate for the official ceremony on 11 December 1917, and that he returned here afterwards for a luncheon with various officials, including the French High Commissioner designate, oise Picot, and T E Lawrence - of Arabian fame.
The property became embroiled in the political struggles of the 1930's and 40's and on one occasion in 1948 was in the line of fire for a battle between the British and Jewish fighters. The Jewish people during this period were cut off from their main
hospital - Hadassah on Mount Scopus. CMJ offered their Hospital to the Jewish leadership - who accepted this offer. Thereafter it became known as Hadassah A - and over the following years, until 1962, thousands of Jewish children were born here. When Hadassah moved out in 1962 most of the buildings became available for the development of the School. Henceforth,especially under the able leadership of Beryl Bradnack, the character of the school changed from being purely CMJ Mission school to more of a international school. All during this period the administration of the School was under the directorship of ITAC.
Throughout the years after 1962 there have been numerous developments in the School. Many of the old buildings, former wards of the Hospital, were adapted to become class rooms. By 1978 was generally agreed that the school will retain CMJ's vision, although developing a wider Board of Governors. Nowadays is a truly international school .
(From the official AISJ – website)