Heara 6 - On the Borders (of) the Comment
The Tower of David Fortress
Oct 23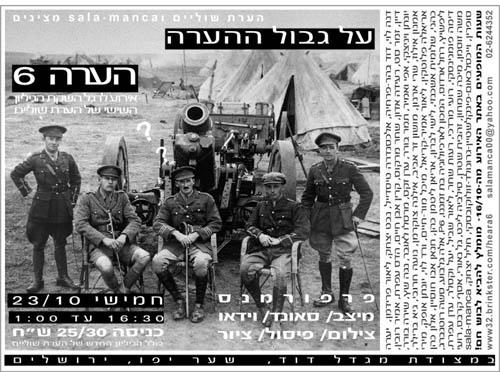 Heara 6 – On the borders of the comment, deals with one of the central symbols of Jerusalem and its implications and meanings in the Jerusalem of our days. The starting point of the event is the architecture of power and control. Both the limits and the symbols expressed in "The Tower of David" and the ways of exhibition and construction of the history of Jerusalem are examined, through the comment about the permanent exhibition of the history of Jerusalem in the Fortress.
Heara events don't "decorate" a historical site with contemporary art but comment it with a different light, both contemporary and critical.

(H)Eara 6 and the sixth issue of (H)Earat Shulaym closed the first two years of independent artistic action, from the main Artistic Institutions and commercial sponsors.